It is no exaggeration to say that video is the most effective information medium of the moment. Social media sites have all added video or reel features to their platforms to adapt to the increasing reliance on video to share entertainment and information. Presentations should be no exception. A well-placed and relevant video adds a welcome change of pace and dynamic feel, so this article will discuss how to use and embed video in a presentation.
Why should you add videos to your presentation?
Make your presentation more powerful
Pack a punch with an appealing and attention-grabbing video to draw in your audience. A video with an emotional or thought-provoking message can uplift your presentation and push for the intended effect.
Set the mood for your audience
A video in a presentation should have an impact like excitement, inspiration, or thoughtfulness. It must be relevant to the tone and topic of the presentation and help get the audience in the right mood.
Keep your audience engaged
As we mentioned earlier, there are many ways video helps keep your audience engaged; it offers a change of pace from the typical presentation program. Audiences connect with what they see more than what they hear, a captivating video works as an ad for your presentation and keeps the listeners involved. 
Do more with less 
At Prezlab, we often go back to the concept of less is more as a principle in presentation design. Using little text, a video that covers your main points does the talking on your behalf. Having a couple of videos makes for a memorable way to summarize your main ideas.
The difference between embedding and linking a video 
There are two ways of putting a video into a PowerPoint presentation from your computer, whether it is a PC or a Mac. You can either insert an embedded video or link to the video file. Both options have pros and cons, so you can decide which is more appropriate for you.
When you embed a video, you add the video to the presentation file. Meaning you can play the video directly from the presentation itself. However, that also means that the presentation will have a larger file size.
On the other hand, inserting a video link from your computer follows a similar process but keeps the presentation file size smaller. It is important to note that you should have the video saved on the same computer for a video link to work. If the video file has been moved or deleted, then the video will not play, and the link will break. To be safe, have the linked video saved in the same file as the PowerPoint, and if sending the presentation to someone else, send the video file as well.
How do you embed video in your presentation from your computer?
PowerPoint 
In PowerPoint, you will need to go to the Insert tab, select Video, and choose This Device.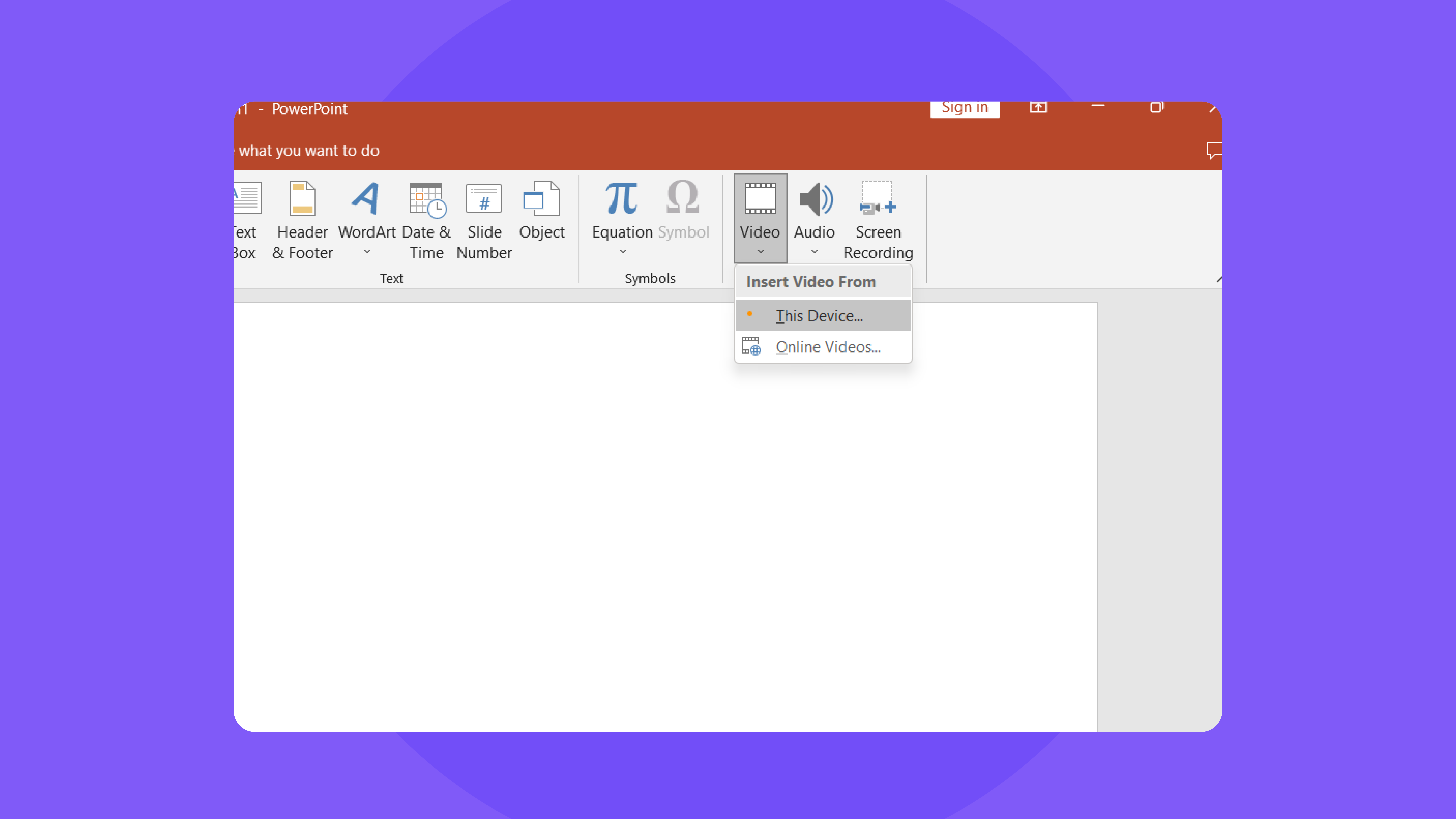 Select the file you want to use and click on Insert.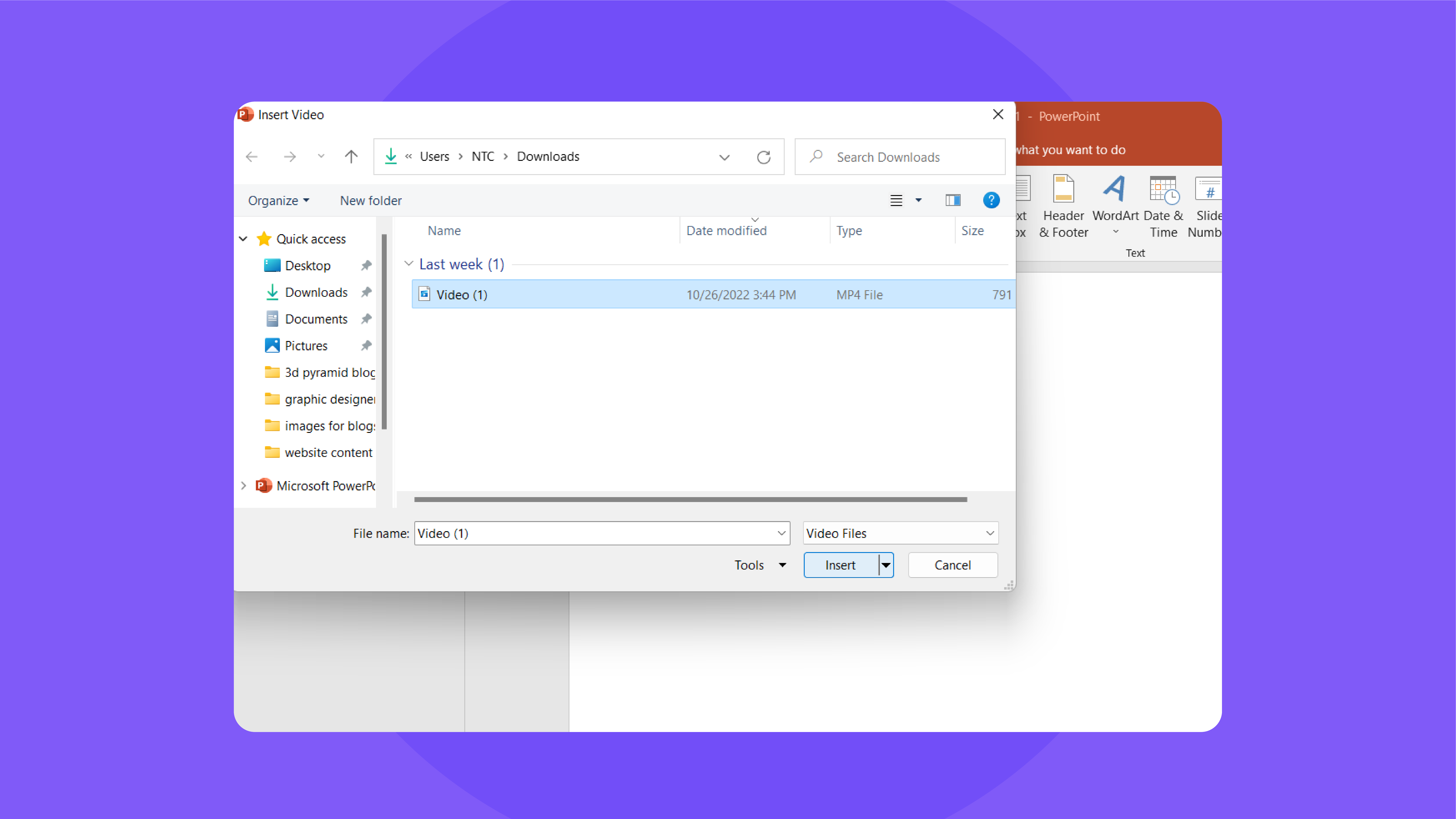 Then adjust the settings in Video Format and Playback to suit your needs.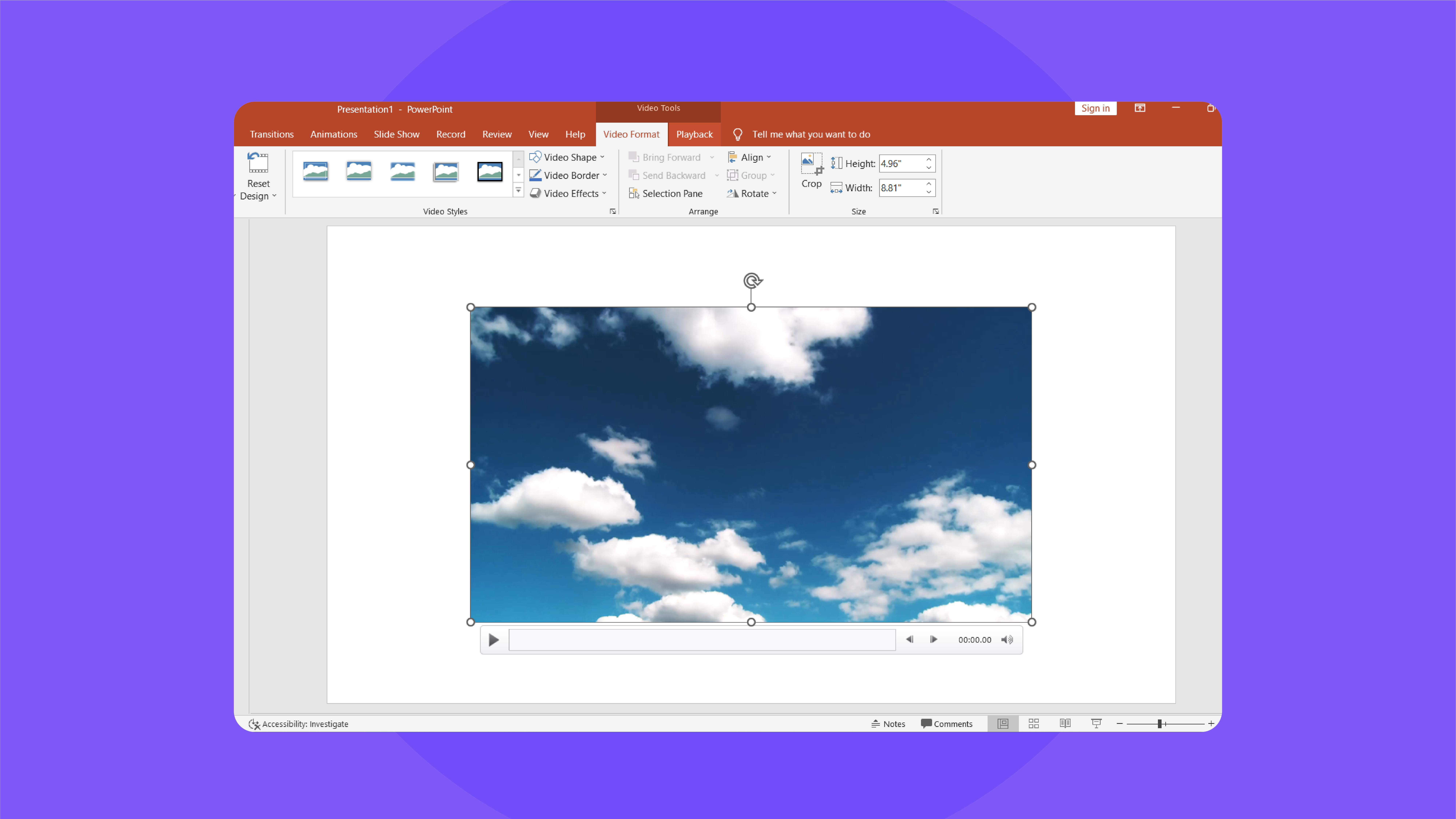 Finally, Preview your presentation to check that everything is working.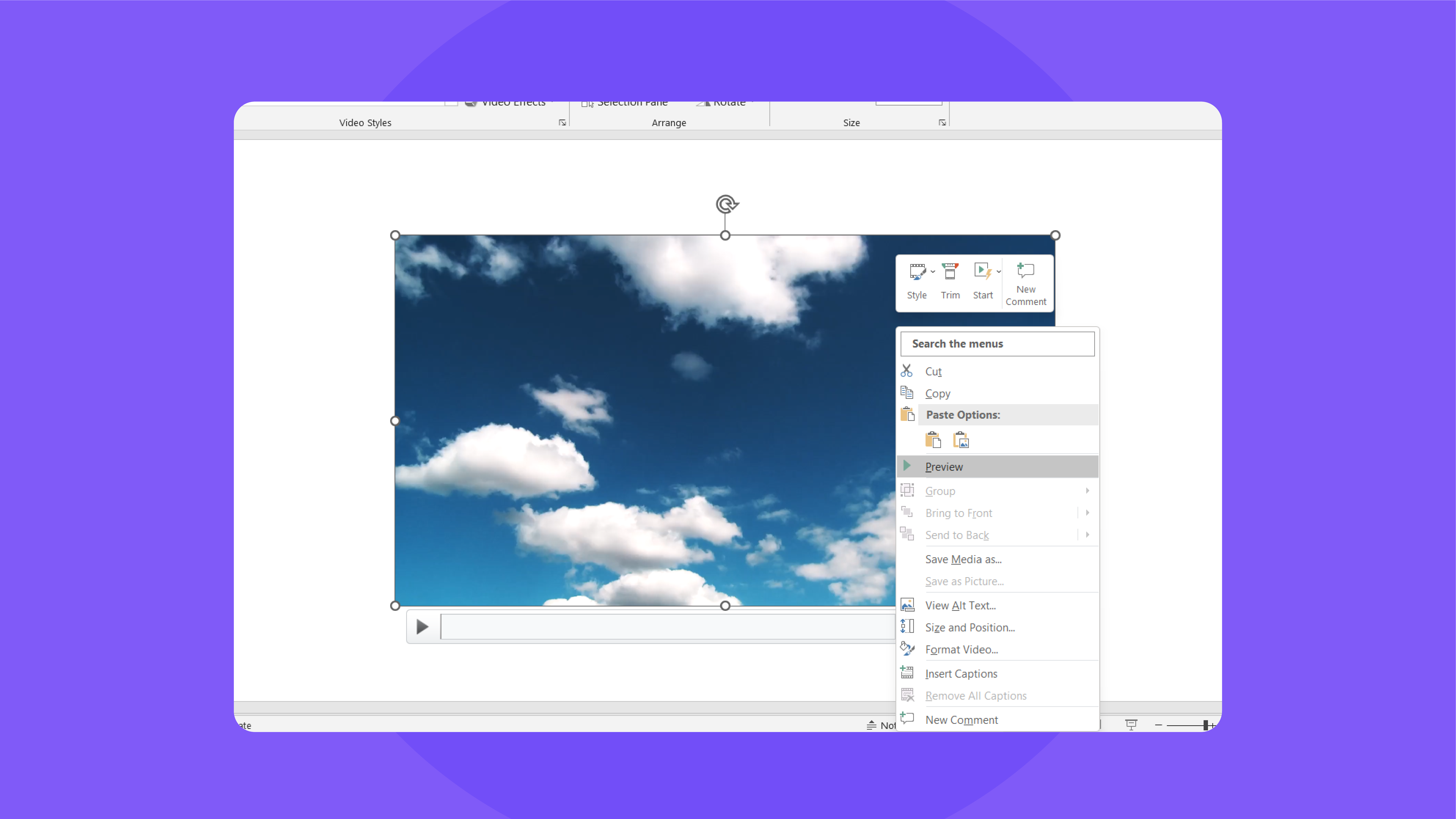 Google Slides
In a Google Slides presentation, go to the slide you want the video to be in. Then click on the Insert tab and select Video.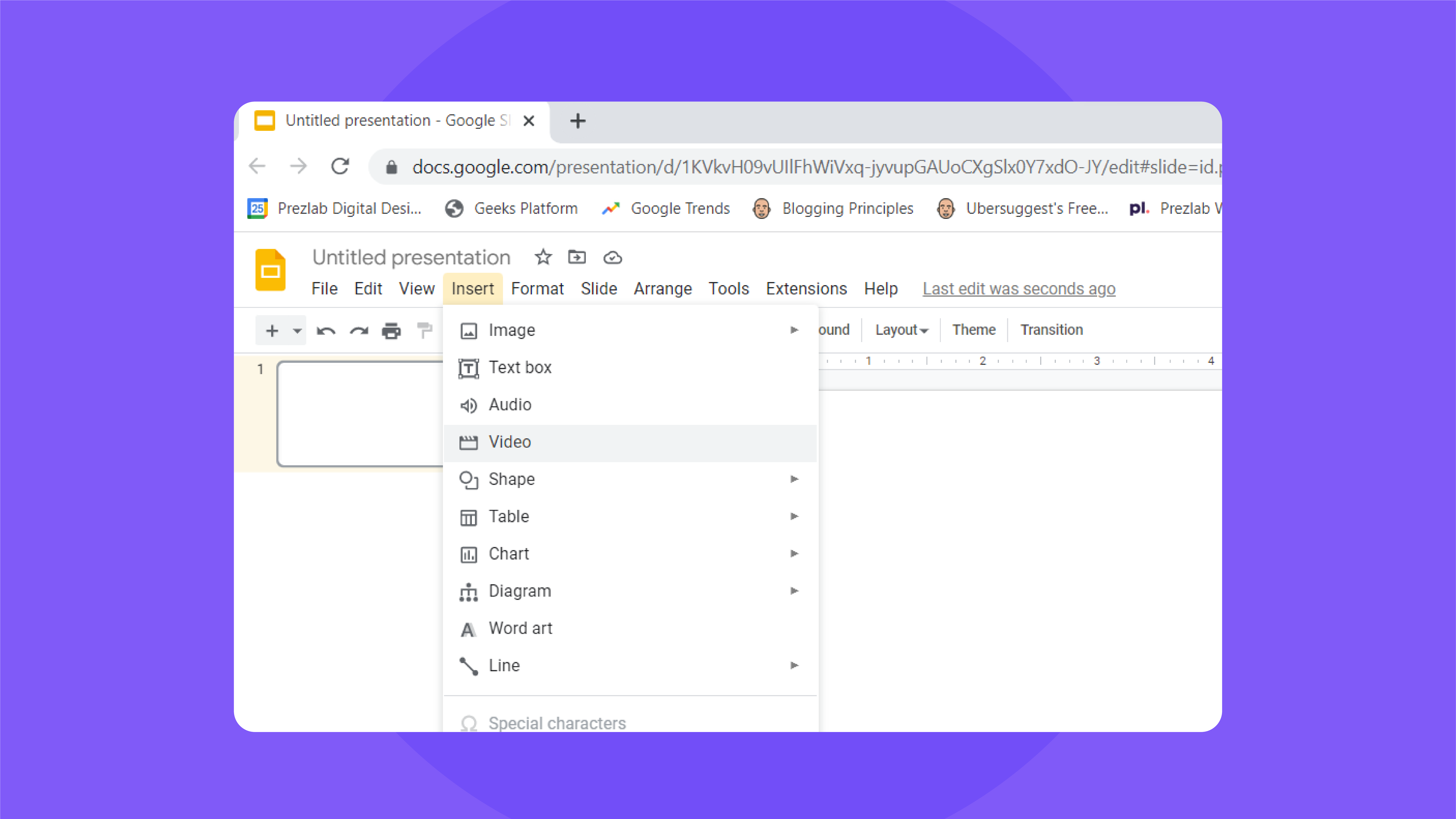 If your video is saved on your computer, you will need to upload it to Google Drive and insert it as a Google Drive file. Select the video you want to insert.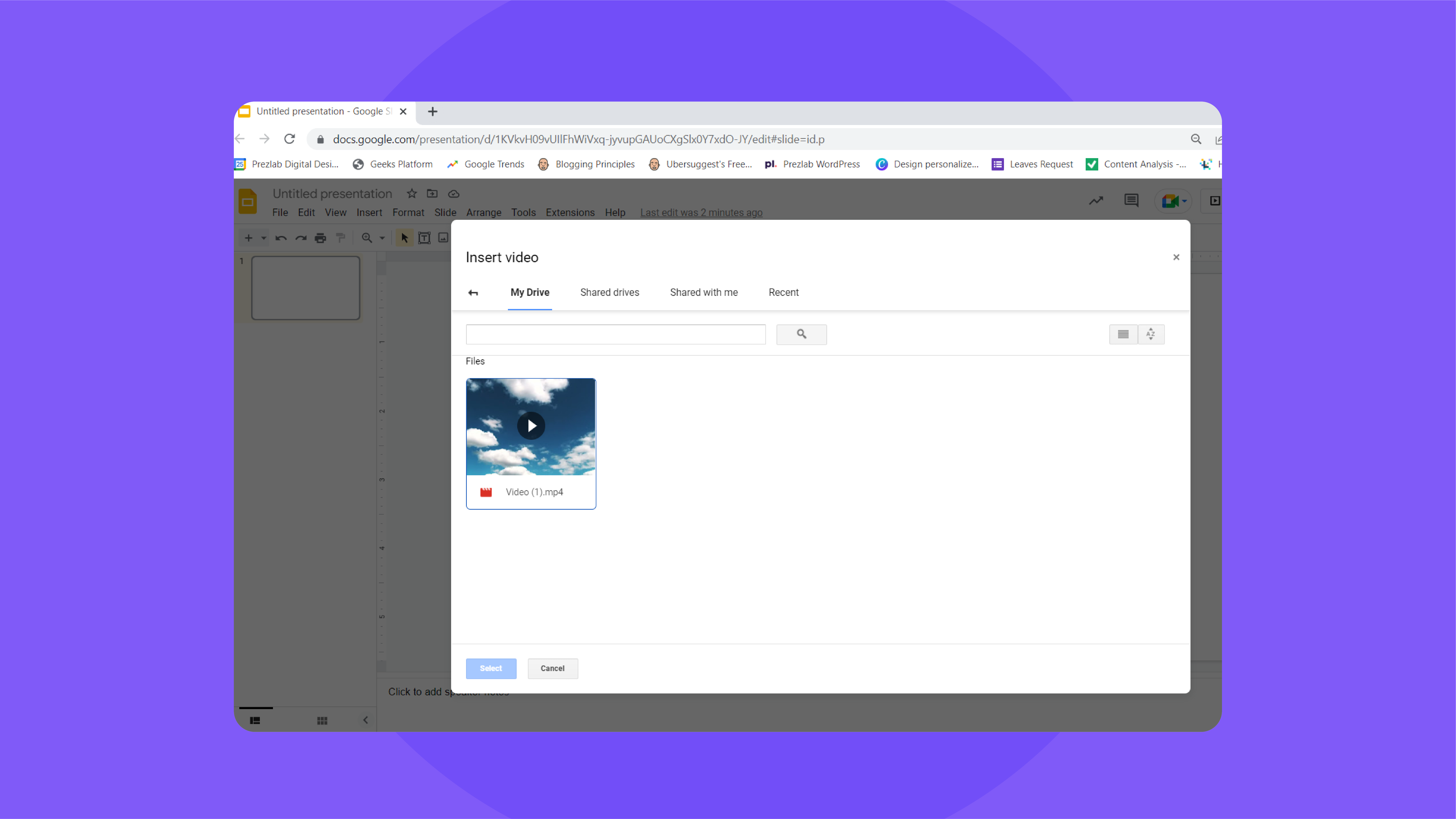 Finally, play around with the Format options and adjust how it appears on the slide.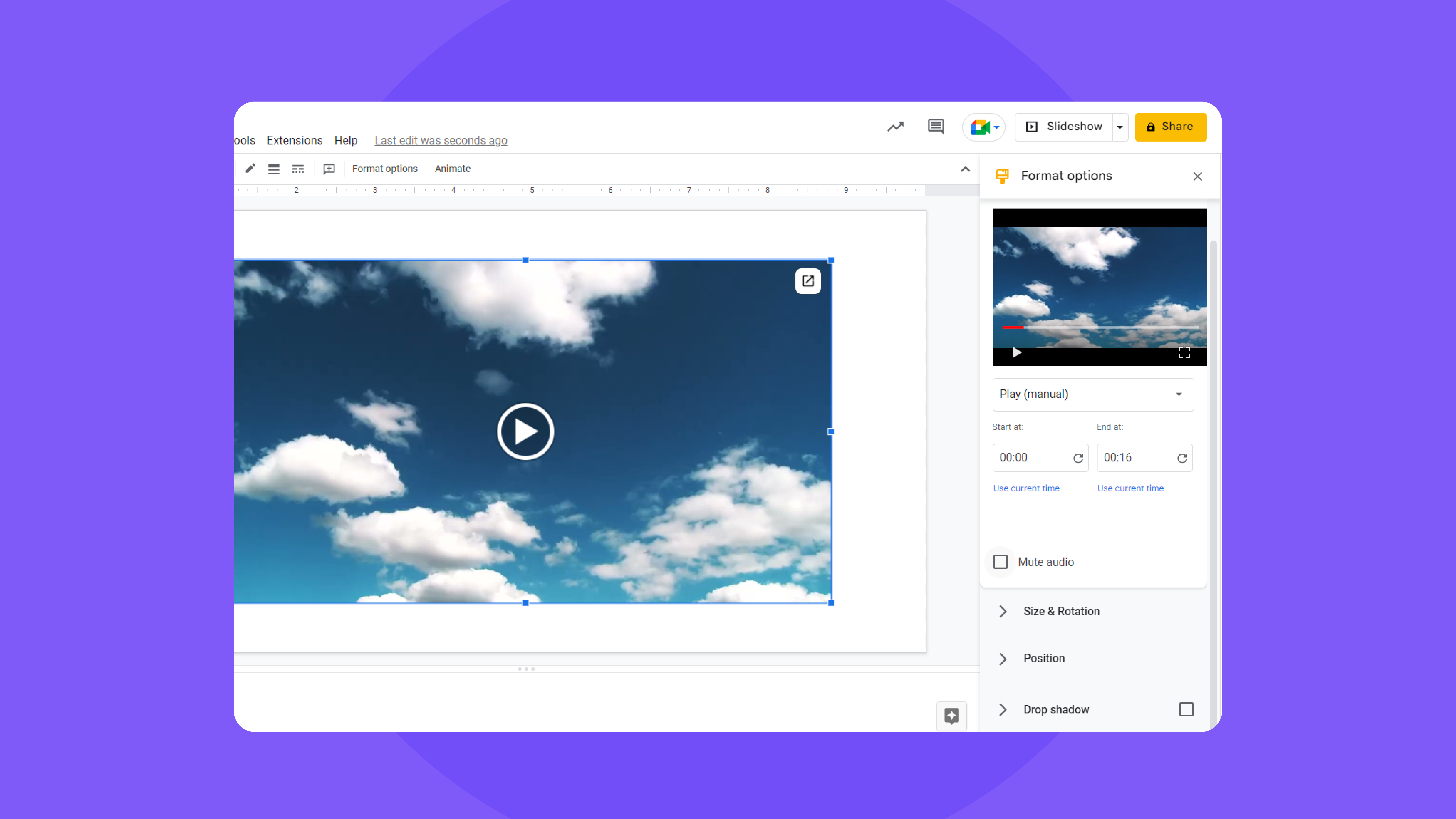 Keynote 
Using Mac's Keynote, you go to Insert and click on Choose.
It will open a file showing the different folders on your computer. Click on your video, and it will drop into your presentation slide.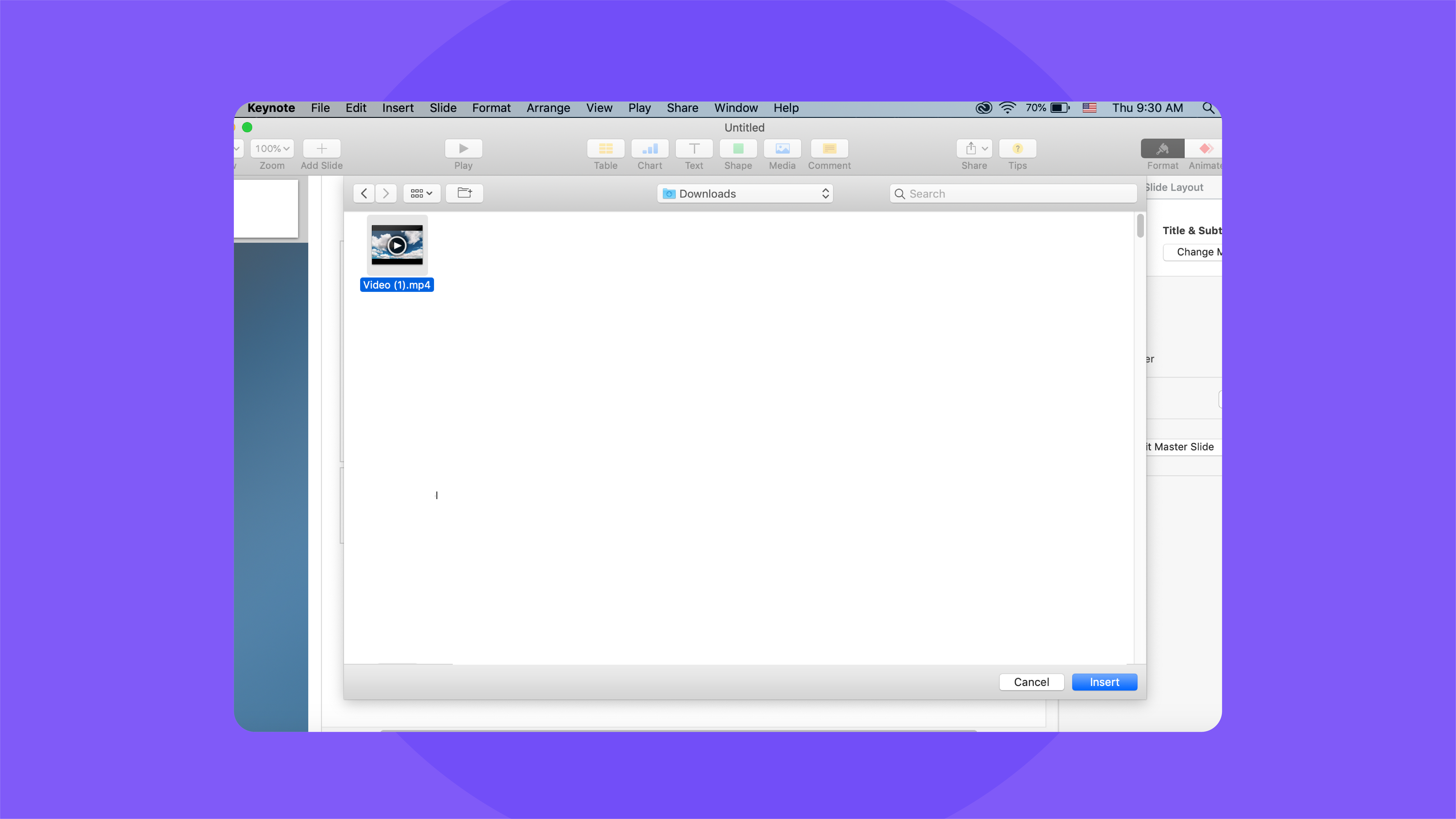 Click on Format and the Movie to find the video settings, and finally edit them based on what works best for your presentation, including the option for playing the video automatically.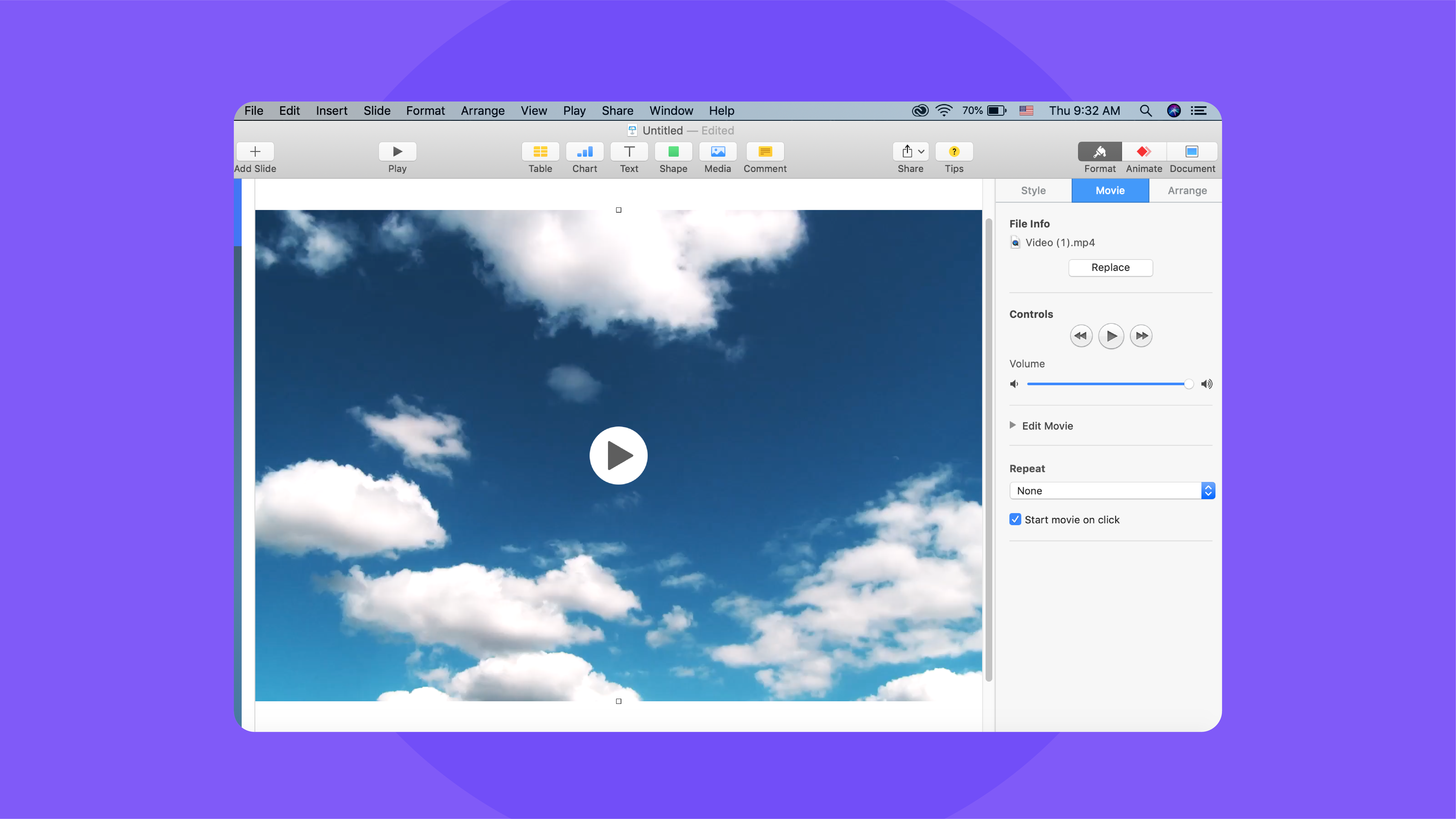 What are the options for adding a video to a presentation?
When you decide to add a video to your presentation, you begin to consider the many different resources available to obtain your video. You can consider searching for a video or creating your own. Whether linking or embedding is the more practical option for you, regardless of the presentation software you use, there is a way to make it work in your presentation.
Option 1: Use an Online Video Platform
Video-sharing platforms such as YouTube, Vimeo, and Dailymotion have a wealth of educational and entertaining videos. If you find a clip that helps you drive home your main points, you can embed the video in your presentation by inserting a video By URL on Google Slides or through Online Videos on PowerPoint. You can just copy and paste the video link to insert the video. 
Option 2: Use a Video Converter
If you made the video you want to use or have a downloaded video ready, you sometimes discover that certain video formats are not allowed in PowerPoint. In that case, video converter tools are your savior. There are many online sites for converting video files, such as Kapwing, or free softwares such as HandBrake.
Option 3: Use a Screen Recording Software
Sometimes, you want to elaborate on a point through a brief video tutorial. In this case, you can create your own by screen-recording your process. Screen recording software like Bandicam or extensions like Chrome's Screen Recorder helps you create straightforward video tutorials that you can embed in your slides.
Tips for video-focused presentations
When searching for a video to feature in your presentation, you want to ensure that the video is interesting. Otherwise, it just becomes a weak interlude. What should you keep in mind when selecting a video for your presentation?
Be clear with your script.
A video is a supplementary resource, so it shouldn't leave any room for vagueness or uncertainty. Its purpose is to aid and explain your ideas. A video is not worth including if it doesn't help simplify or clarify your points.
Pick colors that pop.
Let the videos you use be a fun respite or a break in the routine. An eye-catching and bright video engages the viewer and energizes them before getting back to the original program.
Keep it short and sweet.
A benefit to using videos is that it diversifies the presentation's mediums, but even the novelty can wear off if it's too heavy-handed. If a video is too long, you risk losing your audience, so it's best to keep it short and to the point. You can even use an edited fragment or excerpt to get the point across more quickly. 
A video in a presentation is a welcome change of pace, it adds variety and snaps back the attention of your audience. It's important to know how and when to link or embed video to help you take advantage of the medium and add some life back into your presentation.