With many design-related projects on the horizon, you become confronted with the age-old question: in-house or agency? Is outsourcing or hiring in-house designers the right approach? In this blog, we'll discuss the pros and cons of both options and highlight key points you need to consider if you decide to outsource talent through an agency.
What are the main differences between in-house vs. agency?
Before we get started, let us clarify the distinction between in-house design teams and agency design teams. An in-house design team is a group of professionals in your company that have deep knowledge of your brand identity inside and out. They are an integral part of the staff and will grow creatively alongside your company. 
On the other hand, with an agency, you work with an outsourced team of creative talents that familiarize themselves with your brand and build on it with informed recommendations. Although they may be a pricier option, agencies offer greater flexibility by providing access to valuable assets, talent, and resources that might otherwise be unavailable to you.
Hiring in-house designers
In-house designers are a team of designers who are either part of the company's staff or individuals you plan to employ to build an internal creative team. Embracing their work requires teamwork and inter-departmental cooperation while considering several elements.
What should you consider if you choose in-house design?
When contemplating utilizing your in-house design team, you may either work with the existing design team in your company or hire designers specifically for design-related projects and tasks. Opting for an in-house designer means that you need to have regular meetings, assign design tasks, and provide them with a substantial workload with potential career growth to justify the onboarding of designers for your projects.
In what cases is an in-house designer a good choice?
If the workload involves long-term projects and requires a full-time designer, then choosing an in-house is the more practical option. Opting for an in-house designer is better if you require good design to be part of your brand's image and would like a closer relationship with the designer. Having employees that grow alongside an evolving brand enriches a brand's growth.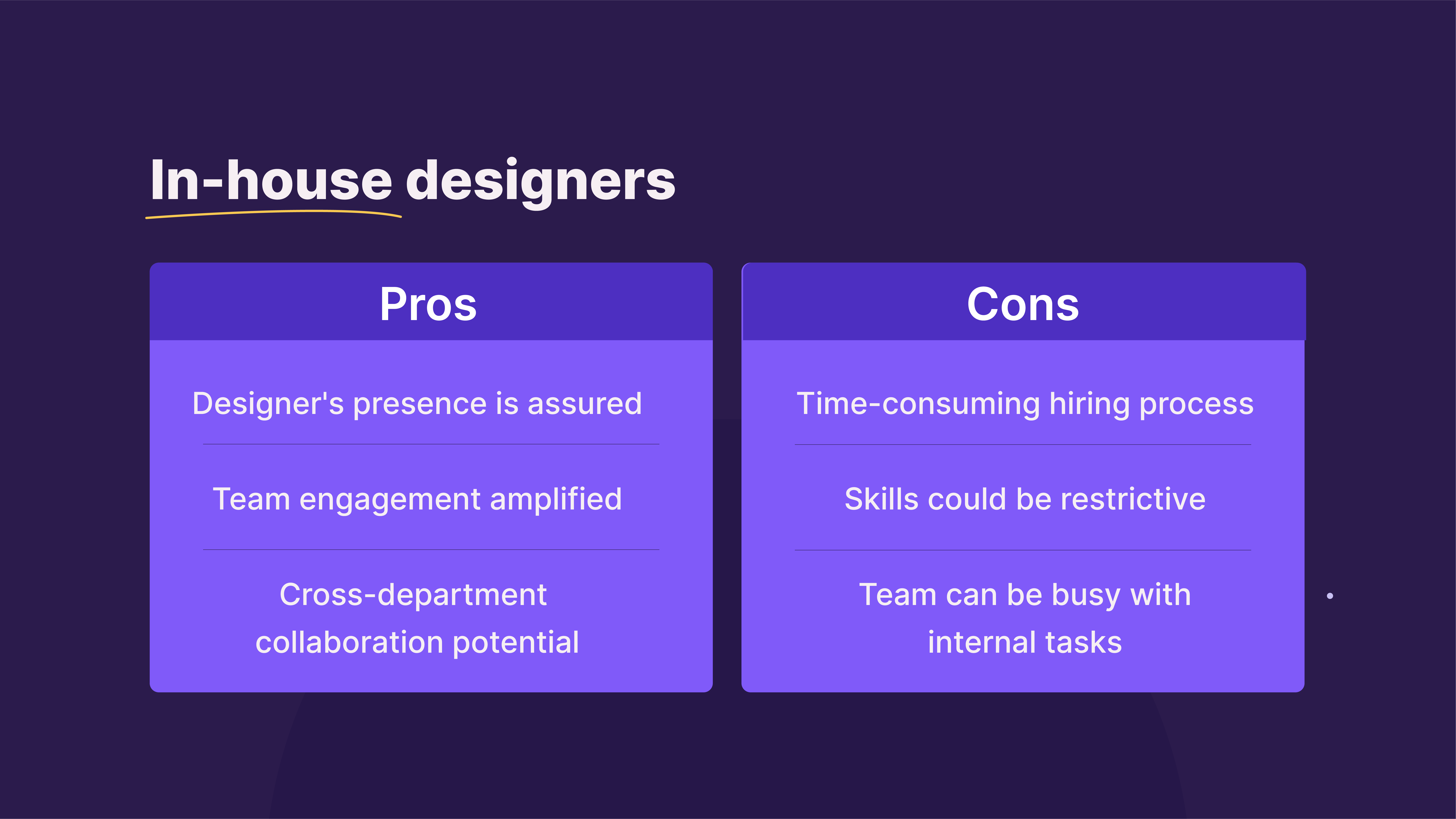 What are the advantages of hiring in-house designers?
There are several benefits associated with hiring in-house designers. First, you would have financial transparency, as they would be an employee on your company's payroll. Plus, the proximity of the designer to you would help you assess the changes or edits a design needs. There would also be a higher level of involvement as in-house employees understood the brand, products, and company culture. Also, by being closer to other team members, they could always collaborate with or consult other team members whenever they needed, improving their productivity and design process.
What are the disadvantages of hiring in-house designers?
Although there are many benefits to using in-house designers, it can also come with a few challenges. The process of hiring and onboarding designers takes time, plus all the HR-related affairs. Additionally, no designer can do everything, and depending on the vision and scale of the project, you might still need to outsource talents from different specializations. 
Sometimes your company might already have a design team whose talents you could borrow. However, they might be swamped with work from other clients and unable to fully dedicate themselves to your project; in such cases, we advise you to hire an external team.
Hiring design agencies
A design agency's team can offer a wide range of specialties and talents. And a much-needed fresh perspective. If the in-house team is needed for high-priority initiatives, then an agency can step in and take it from there.
What should you consider if you choose agency design?
If you're considering hiring a design agency, it's important to refer to and evaluate the agency's portfolio and previous experience. You could even decide to test out their work with smaller tasks before committing. See if they suit your brand and requirements. And since they will not be in your office, you will need to schedule regular meetings to maintain constant updates and feedback. It will require effort on your part to reach out, get involved, and participate in the process.
In what cases is an agency team a good choice?
A design agency is a great option for specific design requirements that in-house designers do not have the skill set to manage. Additionally, external designers have a fresh eye and perspective that your brand can benefit from. And occasionally, when internal designers cannot squeeze in design tasks due to more time-sensitive assignments, an agency can step in to ensure seamless execution.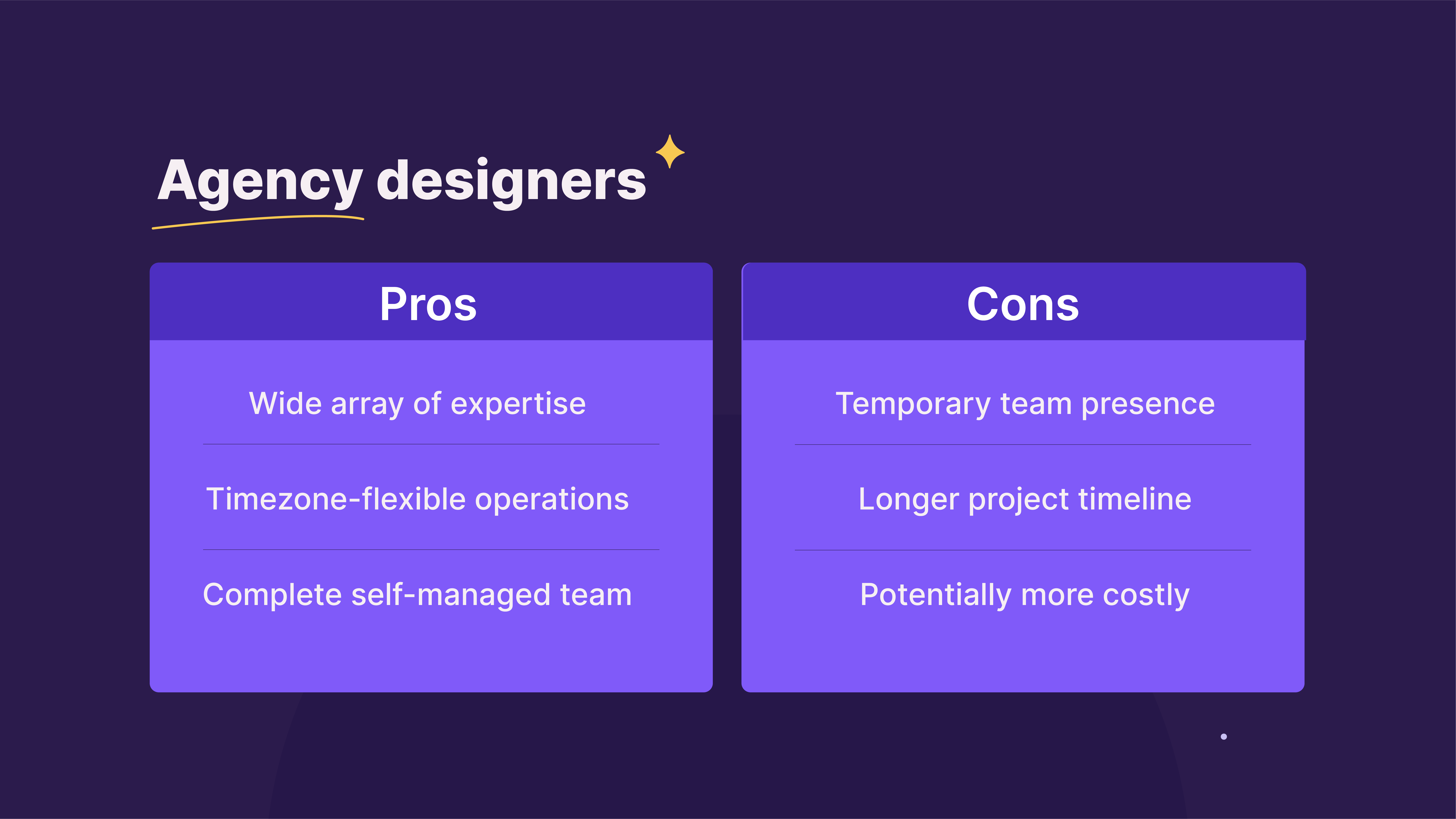 What are the advantages of hiring an agency?
There are many perks to hiring a design agency, starting with the fact that you are allowed to be selective. Since you are searching for a temporary external team, you will find a more diverse pool of talents, skill sets, and expertise. Usually, an agency has consultation services that help direct your project and bring it to its full potential. They are also more accommodating to different time zones and can scale their services based on your business's growth. Plus, working with an agency means that you will be working with a whole team that you are not required to manage. By not worrying about hiring, onboarding, and micro-managing, you can save time and refocus your energy on other tasks. Although there would need to be frequent meetings to track your project's progress, you will not be involved in the day-to-day management of the design project.
What are the disadvantages of hiring an agency? 
Note that working with an agency might include drawbacks that would typically come from working with an external team. Firstly, an agency team is a temporary team, and they will need guidance if you require their work to serve a long-term goal. Secondly, agencies also need time, from splitting their time with other clients to putting dedicated effort into their designs. The earlier you reach out, the more likely you are to receive the results within your preferred timeline. Also, an agency can be costly, and with the variety of talent that took years to develop, retaining these skills will come at a cost.
How to make the most of working with an agency?
Hiring an agency's design team would be a great choice for bigger projects that require more resources and expertise than your current team might lack. Yet, there are points you must consider to make the most of your collaboration with an outsourced team. 
Define your goals
Before you begin, present a design brief to determine the roles in the project and the responsibilities expected from both sides. Set up a meeting with the project manager and involved team members to define any expectations about the project before starting. Moreover, establish a line of communication to keep the conversation about the project's progress active and transparent.
Be clear about what you need
In addition to the roles and responsibilities, work out the purpose and details of your project. 
What is the project for? 

Who is it targeting? 

What is it meant to achieve? 
These are the kinds of points you should agree on with the agency's team to be on the same page with them on the project's objectives.
Set a budget
Before starting a project, decide on a budget that is reasonable for you and that you're willing to spend. After you've determined your budget, begin to research agency and talent costs, market trends, predicted timelines, and potential setbacks that you'd need to prepare for. Once you've decided on the budget, you will have set perimeters for the project that you can work within.
Set a timeline
Design agencies juggle multiple projects at once and naturally have busy schedules with several projects in progress simultaneously. This is why it is crucial to have a transparent discussion regarding their availability, which will impact the project timeline and your preferred deadline. Moreover, discuss what would be a realistic timeline for the project and its different milestones that both the agency and company can agree on.
What to consider when deciding between an agency and in-house design resources?
In the end, you are the one who best understands what your company needs. Whether you decide to hire an agency or an in-house design team is a choice that depends on your circumstances, project scale, resources, and intended outcomes and goals. To help you make your choice, consider the following points to better understand which option best suits you.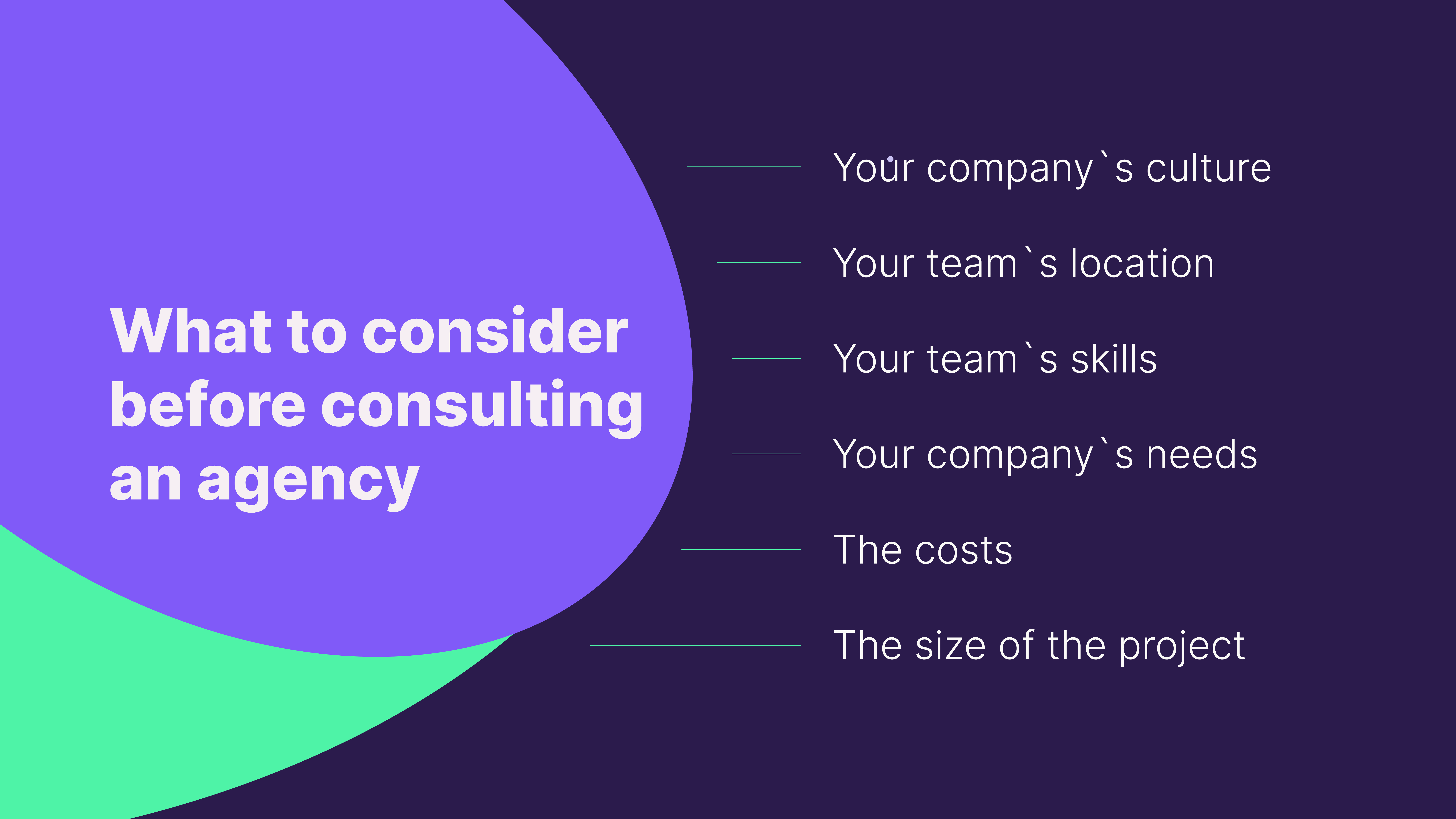 Your company's needs
Understanding your company's needs helps determine whether or not an in-house team or agency is the right option for you. You need to ask yourself:
What are your organization's long-term goals and vision? 

If you are planning to grow your company, how does hiring designers fit into the long-term plans for your company? 

Are creativity and design core values for your company? 

Is innovative and captivating design something you wish your company would grow into?
The costs
Hiring an in-house designer involves a long-term investment in your company's infrastructure; you will gain a dedicated team member who will remain with you for years. On the other hand, working with an agency can give you flexibility if you are only looking for temporary projects. Do you wish to invest in a continuous solution, or do you desire the adaptability with cost and budgeting that hiring an agency would allow?
Your project's size
As your company evolves, internal departments will face increased demands and strains. In-house design teams would be overwhelmed with their tasks and might not have the skills required for a specific project. Depending on the project's size, adding pressure on them would not be sustainable. Choosing a well-rounded agency with experts in different domains such as animation, branding, and strategy would deliver a strong result and alleviate the pressure on the in-house team.
Your team's skills
Based on your projects and marketing strategies, your current in-house team might lack specialization in a particular area, like web development, for example. Although it's natural, it takes time to create a diverse and well-rounded creative team—time you might not always have. Here, agencies will fill a skill gap and provide your team with the support and talent they need for a particular campaign. 
Your team's location
When an agency operates in another time zone, it ensures that no moment is wasted as the project is being prepared. The agency's design team will be filling in the gaps when you are off-hours. Also, the difference in location can bring out a distinct perspective and a different creative mindset based on cultural and local differences.
Your company's culture 
It is natural to prefer working with creatives and marketers who align with your company's values and goals. This is made possible by investing in an in-house design team that is interested in seeing the company grow and succeed. Furthermore, an agency's design team offers a fresh pair of eyes to look at your ideas and encourage improvements. 
Deciding between an agency design team and hiring your in-house team requires reflection on the present state of your company and your plans for the future. In-house designers will continuously evolve and grow with your creative team, but an agency can offer specialized services that are absent in your current capacity. It all comes down to your priorities; whichever option you choose should help grow your brand into a dynamic business.
 If you would like to understand the kinds of services offered by an agency, you could contact our team. Prezlab lends its creative team to all kinds of brands to develop their creative vision and bring it to life, from presentation design to animated videos to brand development.